Publications and writings
Social Media sad girls and normalization of sad states of being
Capacious: Journal for Emerging Affect Inquiry, vol. 1, no. 2, 2018, pp. 1-21. doi: 10.22387/CAP2017.9.
Abstract:
This paper examines virtual manifestations of "sad girls" on the media platform Tumblr. Here users write about their struggles with mental illness, revealing a set of shared experiences that encompass both psyche and body. Predominant narratives of what it means to be mentally ill are questioned, and alternative conceptualizations of the psyche are introduced. I argue that the sad girls legitimize each other's experiences of mental illness while also romanticizing melancholic sadness. I use the concept of sadness as referring to a multifaceted affect that includes clinical diagnoses like depression as well as general sad sentiments. By looking at the way content is circulated in a meme-tic fashion among the sad girls on Tumblr, I discuss how a shared discourse around sadness is created. I suggest that this collective discourse is an example of what Lisa Blackman calls "distributed forms of perception," which can be seen "in social media practices that allow traces and fragments to become linked together to assume a collective authorial voice" (2015, p. 37). I ask if the sad girl represents a new kind of sadness that challenge the norms around mental illness which tend to conceive it as something to be immediately cured. This question is examined by mapping out various ways of conceptualizing and analyzing sadness. Finally, I discuss the productive possibilities of resting in sadness by examining the sad girls' potential resistance to neoliberal demands for self-governance.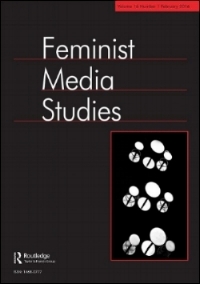 Tumblr Feminism: Third-Wave Subjectivities in Practice (MA Thesis 2013)
Master's Thesis completed in the department of Media, Culture, and Communication at NYU under the advisement of Laura Portwood-Stacer.
The thesis explores how feminist online identities created on Tumblr are situated in the intersection of post-feminist and third-wave discourses, and what the technological affordances of new media can contribute to contemporary feminist practice. It discusses how Tumblr might function as a site for radical identity practices that subverts heteronormative, sexist, racist and cisgendered conformities.